Cybernetic Agents for an Ecology of the Far/Near
Design Informatics Webinar, School of Informatics/Design Informatics, University of Edinburgh, Claudia Westermann | Thursday, 4 February @ 4pm GMT |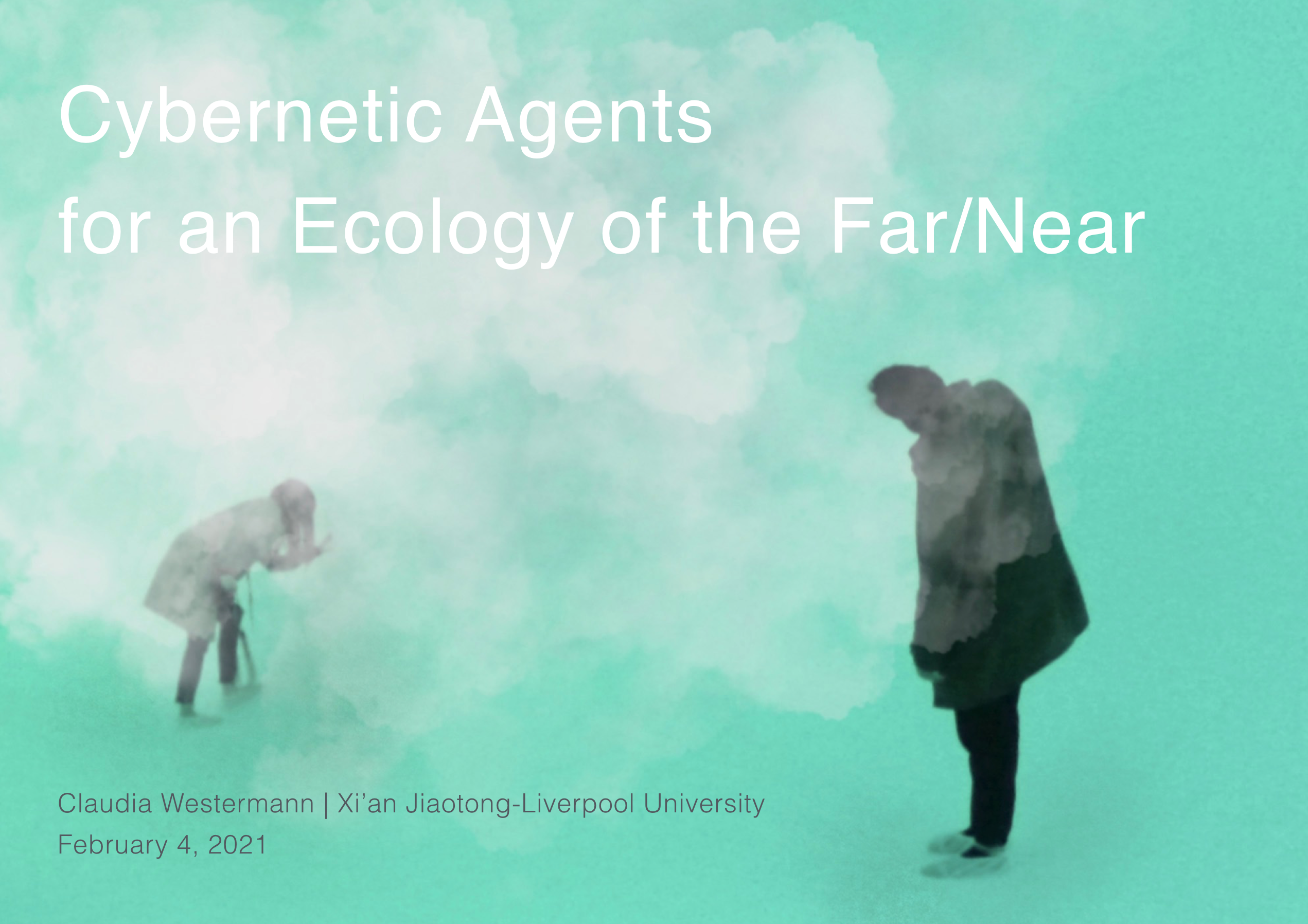 Public Lecture. Registration via Eventbrite. 
The recording of the presentation is now available online on the Design Informatics website. Alternatively, you may watch it on vimeo.
As the world gravitates towards a state of perpetual crisis, against the unbearable absolute of distance, we posit an ecology of the far/near and present cybernetic agents on the anthropocosmic stage of becoming. Not solely concerned with biological life, ecological thinking engages in conceiving exclusions, and likewise inclusions – in time and space. It emphasises relations and concerns itself with the flourishing of societies, cultures, and communities. Within the context of an ecology of the far/near, design is a performative process that creates limits rather than limitations and, is, therefore, a discipline of radical communication that always seeks to extend itself towards an Other – the unknown – addressing it without pre-quantifying it to render it scientifically verifiable.
---
Thoughts on Time, Ecology and Art 
Presentation for American Society of Cybernetics (ASC) 2020 Global Conversation, September 12-13 2020 Part 1: https://youtu.be/4Wcq5WbhmyA Part 2: https://youtu.be/c5JibGTXNks
Constructing the Hybrid City: Shanghai
If the conceptualizations of place – as giving sense to events – are not only romantic ideas that belong to the old times, or maybe to old Europe, but ideas that are universal, then there might be a reason for the emptiness on Shanghai Pudong's streets and sidewalks. The ubiquity of the image of Pudong's skyline might give a truly honest account of what the contemporary networked city in China is like  – mobile and placeless. Is there an option for shifting the situation? Is there a need for it, or a desire? Presentation for the CONNECTIONS: EXPLORING HERITAGE, ARCHITECTURE, CITIES, ART, MEDIA conference held in June 2020 in Canterbury. https://youtu.be/mDRzB33TJdM. The conference paper has been published subsequently in the AMPS Proceedings 20.2 as Constructing the Hybrid City: Shanghai. 
Seats for Seeing
were installed in Beikeng village, Yanping district in Fujian province, China, at the end of November 2019.
The work was made in collaboration with colleagues at Xi'an Jiaotong-Liverpool University Adam Bentley Brillhart, Yiping Dong, and Thomas Wortmann, and with assistance from our alumna Chen Fanyun (mostly on-site) and Ominda Nanayakkara in Civil Engineering (structures consultation).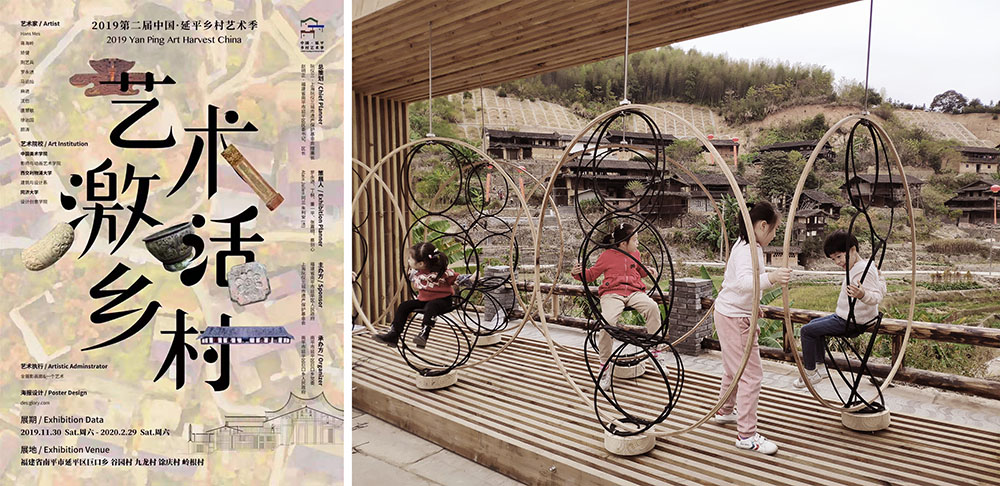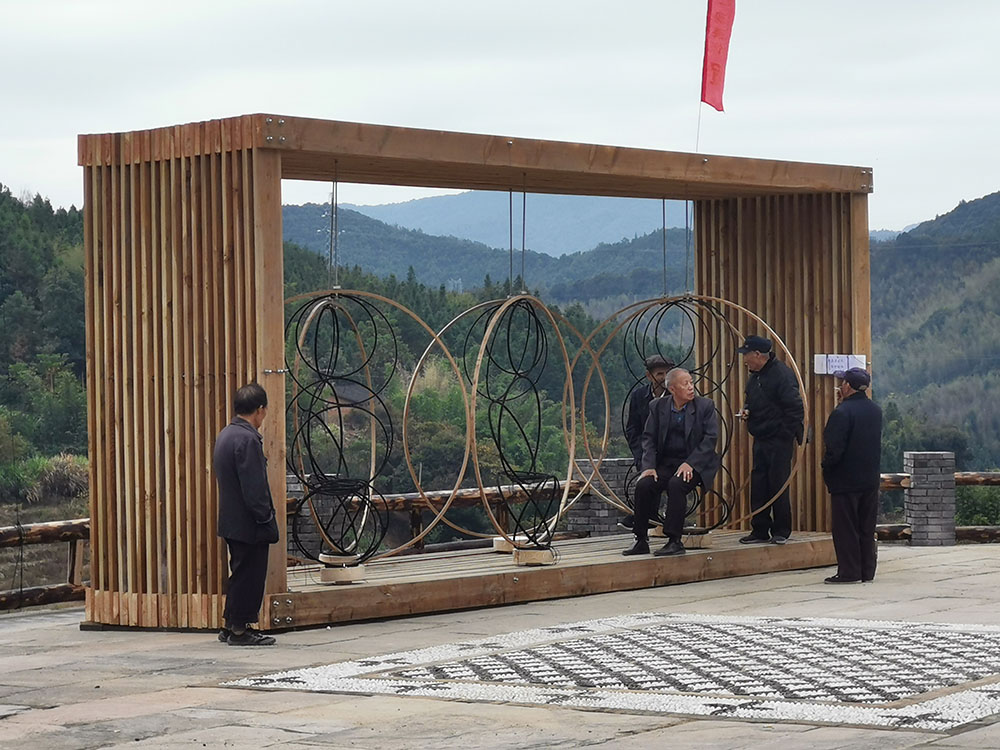 The work is part of the Yanping Art Harvest, running from 30 November 2019 to 29 February 2020. It has its own website at www.seatsforseeing.net.